The Moment I Chose Adoption
I met Sandy* my sophomore year of high school. She was a pretty girl, with wavy brown hair and deep brown eyes that reflected sadness. Sandy had recently moved to our neighborhood and rode my bus. We began sitting together and, over time, she revealed her story to me. She had gotten pregnant and placed her baby boy for adoption. I'll never forget the tears in her eyes or the persistent ache in her heart whenever she talked about her son. I could feel her pain, and I wanted to cry right along with her. She loved her son so much but made a choice she felt was necessary to give him a better life. I both admired her and hurt for her. And from that moment forward, I became intrigued by adoption.
The following year, I decided to do a story for my high school newspaper on adoption. A good friend had been adopted as an infant, so I asked her to participate.
"What does it feel like to be adopted?" I asked.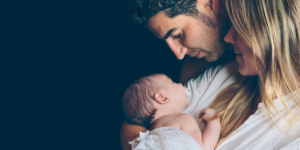 She smiled and replied without hesitation: "I feel natural." My friend explained that she always knew she was loved, and her parents didn't treat her any differently than their biological daughter, her younger sister. Her family was much like any other family. Love was the glue that held them together. I remember thinking what a wonderful option adoption was.
Thirteen years later, I lost my first child to miscarriage. My heart shattered into a million pieces that day, and I fell apart for a while. Tears. Panic attacks. Profound sadness. They became my norm. To make matters worse, I tested positive for a clotting antibody that can cause recurrent miscarriage. I felt like I had been dealt a very unfair hand in life. Why was this happening to me?
That was the moment I chose adoption.
Adoption crept into my thoughts. I knew it was an option, but I didn't know how my husband would feel. And I had no idea what was involved in the process or how much it would cost. I pushed my thoughts aside. 
Over time, I recovered. The clotting antibody disappeared, and my husband and I decided to attempt another pregnancy. Sadly, I miscarried once again. My doctor drew blood to see if the clotting antibody was back. I waited to hear my fate.
When I got the call a few days later, I knew it wasn't good news. The tone of my doctor's voice was solemn, and she explained that I now tested positive for two clotting antibodies—and both can cause recurrent miscarriage. I had my answer. It was over. The miscarriages had taken a toll on me emotionally and physically. I knew there was no way I was going to attempt another pregnancy. My body had failed me. I felt like I had failed my husband and myself. I wept.
But through the tears, adoption called to me. It only took a few minutes after receiving that fateful call to know in my heart I was going to adopt a child. That was the moment I chose adoption. However, adoption had chosen me long before. Life had put the right people in my path so that I could see the bigger picture. I knew that love was the driving force in adoption—both in a birth mother's difficult choice and in an adoptive family's eager welcoming. My road to parenthood was heartbreaking, but I ended up exactly where I was meant to be.
For more information on how you can start your own adoption journey, visit Adoption.com. You can view kids for adoption by looking at their adoption photolisting at Adoption.com/photolisting.